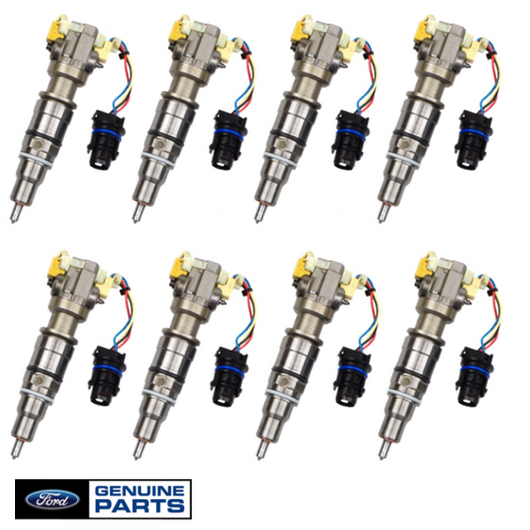 Fuel Injector - Complete Set of 8 | 6.0L Ford Powerstroke
Regular price $3,255.00 $3,109.80 Sale
Item #
3C3Z-9E527-ARM_Set &nbsp
Genuine Motorcraft Complete Fuel Injector Set for the 4.5L & 6.0L Powerstroke Diesel.
This is a complete set of 8 injectors.
This Injector set will fit:
2003-2004 | F250 F350 F450 F550 F650 F750
2003-2004 | Excursion
This kit includes:
8 - Fuel Injector Assemblies
CORE CHARGE: Included in this price is a $1,440.00 Core Charge. This is a refundable charge once the old part is returned to Genuine Diesel Part in the Original Motorcraft Box.
NOTE: 2003 model year identifier numbers are found on the connector side of the injector near the top and should include one of these numbers: 1845879C91, 1843481C94, 1843481C95.
NOTE: This part replaces Ford Part # 3C3Z-9E527-ABRM, 3C3Z-9E527-AE, 3C3Z-9E527-EARM, 3C3Z-9E527-EBRM & 3C3Z-9E527-ECRM / Motorcraft Part # CN-5014-RM & CN-5020-RM
   *** Ford Part # 3C3Z-9E527-ARM / Motorcraft Part # CN-6053 ***